---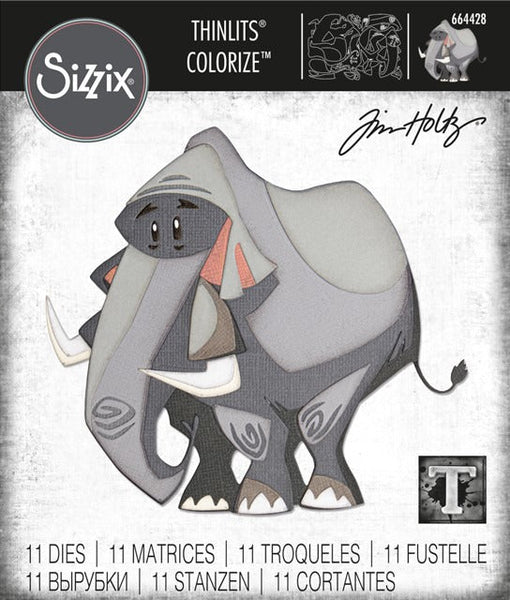 Get your creative stomp on with Clarence the elephant! With brand new Colorize technology from Tim Holtz, the Clarence Thinlits die set is an intricate paper-layering project which enables you to create more dimensional and professional designs than ever before! Each base shape has crease blades identifying where to place layers, before adding your mid-tone and highlight shades. Each layering element is labeled to take the guesswork out of placing shades, creating amazing multi-faceted layered results. Clarence is perfect for embellishing birthday cards, creating amazing framed art and so much more!
Thinlits create dazzling detailed shapes for more creative cardmaking and papercrafting projects. These wafer-thin chemically-etched die sets are designed to cut, emboss or stencil a single sheet of cardstock, paper, metallic foil or vellum. They are simple to use, compact and portable for cutting at home or on the go. Use them for enhanced intricacy and to add a special touch of inspiration to all your projects.

The Thinlits dies in this set are compatible with the BIGkick, Big Shot and Vagabond machines.
To cut, the sandwich requires the use of a pair of Cutting Pads and the machine's included Platform; when using the Essentials Platform or Solo Platform & Shim, the Extended Adapter or Solo Adapter is required. Because of their intricacy, Thinlits dies may require up to three passes to cut. If extra ejection is needed for easier separation of the die-cut from the design, place wax paper between the Thinlits die and your material and then cut. For more on Colorize Technology visit our Colorize hub here.