---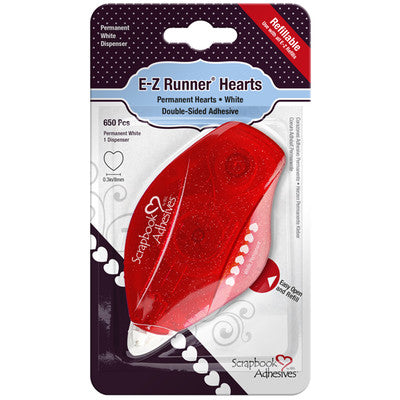 E-Z Runner Stars Refillable Dispensers are ergonomically designed to be easy to use and easy to refill. Drop in refill cartridges can be switched mid-use, with no winding or threading. Mix and match any Refill with any Dispenser.
Value price refills offer versatility and an array of adhesives for all craft projects, including scrapbooking, card making, and DIY projects.
Wear Your Adhesive on the Outside and create your own custom embellishments using adhesives directly with Metallic Transfer Foil, glitter, pigment powder and more.
All Adhesive Refills feature an unbreakable PET liner for consistent, fast and smooth adhesive application.
Dispensers and Refills are recyclable.
650 hearts of 0.30in permanent, white double-sided adhesive heart shapes
Great for photos, paper and embellishments
Apply one at a time, or several in a row
Color coordinated refills for each adhesive type
Embellish to Wear Your Adhesive on the Outside
To refill:
Remove clear protective cap, separate casing by pushing thumbs into tab at bottom. Lift off the top, remove old refill, position new refill, then align casing and gently push closed. Replace clear protective cap when not in use.
Made in Denmark.