---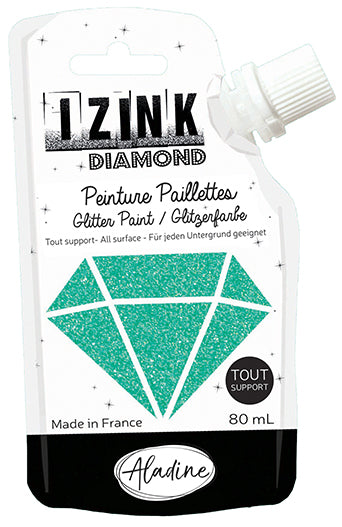 Multi-surface and marvelous, iZink Diamond Glitter Paint is suitable for all types of creative projects. It provides maximum sparkle in a paste-like form that is easy to use with stencils, can be scraped on a surface with a palette knife or old credit card, or applied with a brush or your fingers. Embellish everything and enjoy the sparkle! Fix on glass, metal, or ceramics by putting in the oven. Heat set to make it wash fast on tote bags, clothing and more. Embellish everything and enjoy the sparkle!
This paint is very concentrated in flakes and applies to all media including textiles. Must be ironed before going into the washing machine. Easy to apply with a brush.
Works on All surfaces including Paper, textile, wood, glass and ceramic
When the paint has dried, cover with a protective cloth and iron for 3 minutes to heat set. Then wash at 40° in the washing machine.
The pouch makes it easy to apply, and reduces waste. Packaging is recyclable.
This package contains 80ml of glitter paint. Conforms to ASTM D 4236. Comes in a variety of colors. Each sold separately.