---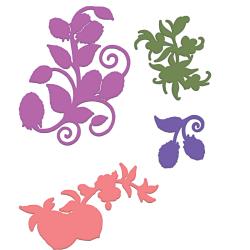 Infuse the enticing flavors of raspberry and olive into your next papercraft project with this delectable die. A large and small raspberry cluster creates endless crafting options for you. Garnish your next creation with luscious peaches, also included in this set.

Product Info: 

Approx. Image Size:
1.  Large Raspberry Cluster: 2.75" x 4"
2.  Small Berry Cluster: 1.75" x 2"
3.  Peaches with Branch: 4" x 2.5"
4.  Olives with Branch: 2.5" x 2.25"