---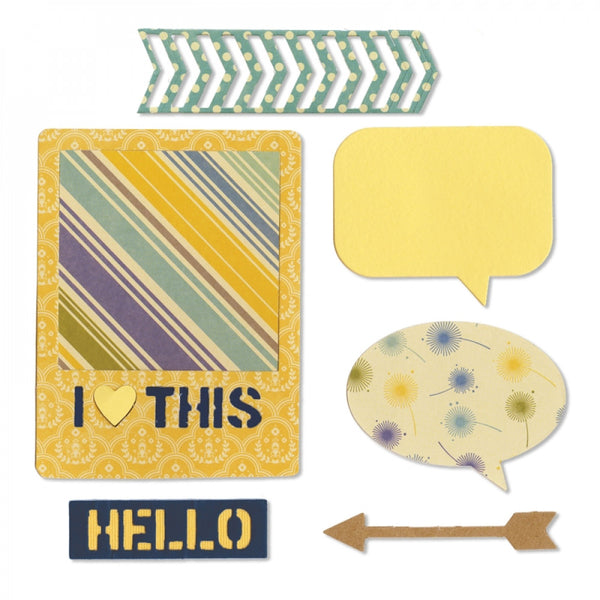 Mix, match, layer or stack. With Triplets Dies, the creative combinations are endless! These dazzling detailed shapes are ideal for all your cardmaking and papercrafting projects. Taking your creativity further, these wafer-thin chemically-etched die sets are designed to cut, deboss or stencil a single sheet of cardstock, paper, metallic foil or vellum. They are simple to use, compact and versatile. Use them for enhanced intricacy and to add a special touch of inspiration to all your projects.
The Triplets dies in this set were designed by Stephanie Barnard and are compatible with the BIGkick, Big Shot and Vagabond machines.
To cut, the sandwich requires the use of a pair of Cutting Pads and the machine's included Platform or Magnetic Platform; when using the Essentials Platform or Solo Platform & Shim, the Extended Adapter or Solo Adapter is required. Because of their intricacy, Triplets dies may require up to three passes to cut. If extra ejection is needed for easier separation of the die-cut from the design, place wax paper between the Triplets die and your material and then cut.
These dies can also deboss when the machine's included Platform or Magnetic Platform is combined with a Crease Pad. The diagrams on the Platforms offer easy guidelines about how to make the perfect Sizzix sandwich.
To stencil, place the die over desired material and apply ink or chalk to the die indentations. This technique can be used alone or to enhance embossed or debossed designs.
This set includes a handy storage envelope. For easy identification, trim off the packaging front flap, keep and slip into the envelope. All items sold separately.