---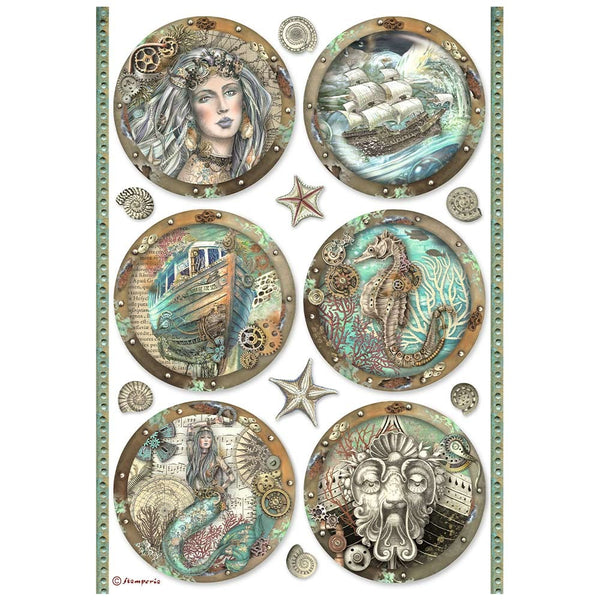 A fun and unique addition to scrapbook pages, greeting cards and more! 
Antonis and Farrel have teamed up to create a captivating Ocean Collection. The pages are filled with intricate details, showcasing the perspectives of both the Mermaid in the deep sea and the sailor in relentless pursuit of this enchanting creature. The Collection offers a wide range of accessories, allowing people to combine and design unique projects. Adding a touch of Steampunk adds a magical twist to the overall concept.
Rice papers are wafer thin and can be used for wrapping, decoupage, painting, molding and are perfect for mixed media projects and other paper crafts. Cut or tear the paper or wet it first for a feathered torn edge. Apply a water-based glue to the back of your paper and place on your chosen surface, use a soft tool or your fingertips to smooth, spreading out from the center removing any imperfections as you go. Once dry you can add inks, paints, varnishes, and glitters. 
Stamperia is an Italian brand that specializes in high-quality crafting materials, including scrapbooking paper, decoupage paper, stencils, and stamps. Known for their stunning designs and attention to detail, Stamperia's products are perfect for a wide range of crafting projects. Whether you're an experienced crafter or just starting out, Stamperia has something to offer with their unique and beautiful collections that inspire creativity and imagination.