---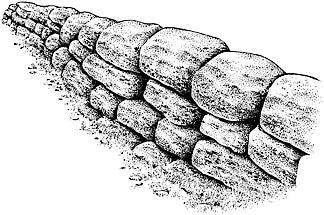 Approximate Size:  3.25" x 5.5"
Only available in Unmounted Rubber Stamps only.
Stone Wall (2) Left 385F is the right version of Stone Wall (2) Left 384F.
As far as structures go, objects constructed of raw natural resources have a way of harmonizing with the environment while adding that touch of humanity in landscape art. There's two stone wall versions.
The designer, Kevin Nakagawa, he usually try a few versions of things and pick the one he like best but he liked both versions as they're a little different from each other.
This one is the type of stone wall where found stones have been piled by someone clearing the land. The other stone walls (Stone Wall (1) Left 382F and Stone Wall (1) Right 383F) have more of a landscaped/engineered look to it in that the stones are somewhat flat. Maybe it can be used along a road as a support wall. Both versions work well as visual lead-ins for scenes due to the angle they've been drawn in. Left and right sides can be used together in a scene but they work fine individually as well.